LOSE YOUR PAIN AND WALK COMFORTABLY
CORRECT-A-STEP Custom Fit Orthotics have brought pain relief and walking comfort to over 100,000 people during the last 30+ years. Our full line of products are built with the highest quality engineering and design, using the most resilient materials and are designed to maintain their shape and functionality even under the toughest conditions. We back that statement up with a 5 year "Free Replacement" warranty against breakage.
Your feet provide the foundation for how you walk and how you stand. If the foundation has problems, everything else is affected… your legs, your back, your stride, and your posture. CORRECT-A-STEP's full line of orthotics are designed to properly support your foundation and provide relief that affects so many areas of your body.
Our 30+ years experience has taught us many things, but one of the most important lessons has been that if you offer only the best product of it's kind, made from the best materials available, you can never go wrong. We have always strived to sell only the best products and that is how we have built our reputation, one sale at a time. 
video testimonials of how correct-a-step orthotics work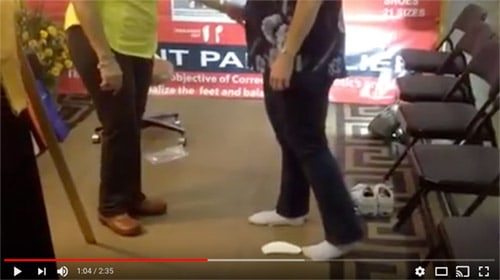 Customer test drives advanced stabilizers
This short two minute video shows the before and after arm strength and posture of a customer test driving our Advanced Stabilizers.